11. Clean environment:
In 2040, Minneapolis will have healthy air, clean water, and a vibrant ecosystem.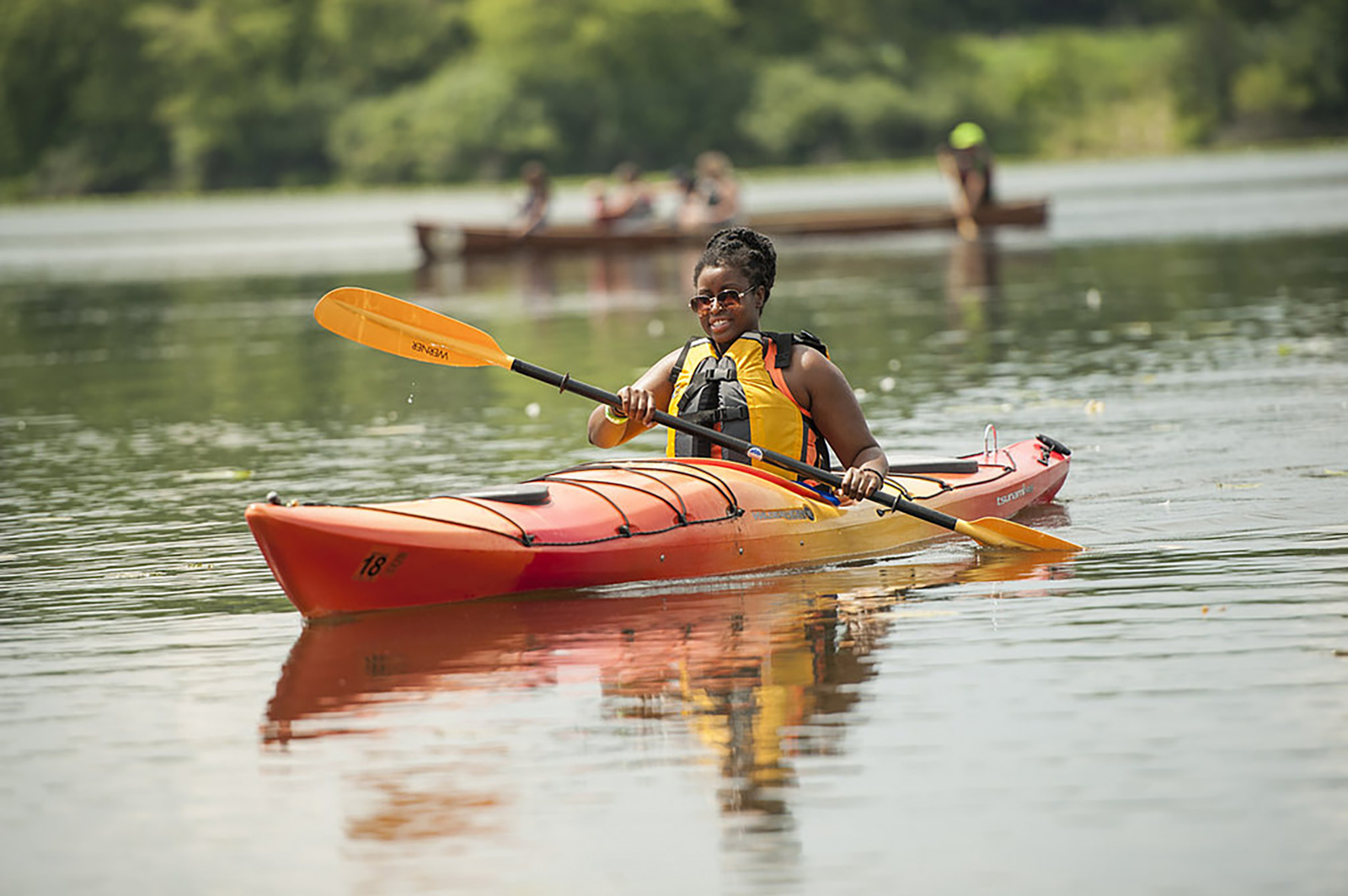 Minneapolis is annually ranked as one of the healthiest cities in the nation. In these rankings, the city's park system, clean air and water, and quality of life are often cited as contributing to its high standing. Yet despite being acknowledged for these beneficial assets and its efforts to make the city cleaner and healthier, the City must persist in improving the quality of the air and surface waters and continue to improve the ecosystem. Minneapolis' environmental system is an intricate network of living, engineered and climatic features working together. The health of the city is directly correlated to the strength of this ecosystem and how well these systems can thrive despite the pressures of climate change.
Minneapolis' lakes received excellent and good scores using Minneapolis Park and Recreation Board measures that assess conditions affecting the public use of lakes. The measures look at public health, water quality, habitat quality, aesthetics and recreational access. However, measurements established by the federal Clean Water Act list many of Minneapolis' lakes and rivers as having multiple impairments ranging from chemicals and metals in fish to other water quality issues that impact aquatic life and recreation. Past City and state regulations and programs have made progress in improving the water quality of Minneapolis' lakes and rivers, but more can be done locally.
Minneapolis' air is getting cleaner. In 2007 where there were 225 days when pollutants were above the levels recommended by the Environmental Protection Agency (EPA) Clean Air Scientific Advisory Committee to be protective of public health. In 2015, there were 114 days. The sources of air pollutants range from mobile sources like cars and trucks to point sources such as factories and power plants and to area sources such as dry cleaners and gas stations. Minneapolis can impact these pollutant sources through transportation and land use planning, by encouraging reductions in energy consumption, and through programs and regulations to reduce point and area sources. In early 2018, Minneapolis became the first major city in the nation to go entirely "perc-free" as the last dry cleaner switches over to a safer process. "Perc" is classified as a likely carcinogen by the EPA, and in 2015 there were 99 occasions in the city when perc was detected at levels above the level the state defines as a "chronic health risk." Minneapolis has established programs to help the last nine dry cleaners in the city using perc replace their equipment to make the switch.
The City will succeed in meeting this goal only if everyone is able to benefit from the outcomes, meaning all residents have access to clean air, quality water and plenty of recreational spaces in flourishing natural environments. Unfortunately, many of the city's most vulnerable communities – low-income and indigenous communities and communities of color – experience more exposure to poor-quality air and other environmental pollutants. According to the EPA's National Center for Environmental Assessment, people of color are much more likely to live near pollution sources and breathe polluted air. These air pollutants – construction dust, auto fumes, smog, soot, oil smoke, ash – are linked to serious health problems such as heart attacks, asthma, high blood pressure, lung conditions and low birth weights.
The City of Minneapolis strives to achieve environmental justice for its residents, which is the fair treatment and meaningful involvement of all people, regardless of race, color, national origin or income, in the development, implementation and enforcement of environmental laws, regulations and policies. Fair treatment means no group of people should bear a disproportionate share of the negative environmental consequences resulting from industrial, governmental or commercial operations or policies. This requires meaningful involvement from all communities, especially those disproportionately affected and previously disenfranchised, and intentional action by the City to protect the health of residents and guests of the city into 2040. In 2017, the City established Green Zones as a place-based policy initiative aimed at improving health and supporting economic development using environmentally conscious efforts in communities that face the cumulative effects of environmental pollution, as well as social, political and economic vulnerability. These efforts toward environmental justice, as well as for cleaner air and water overall, will continue to be a priority for the City.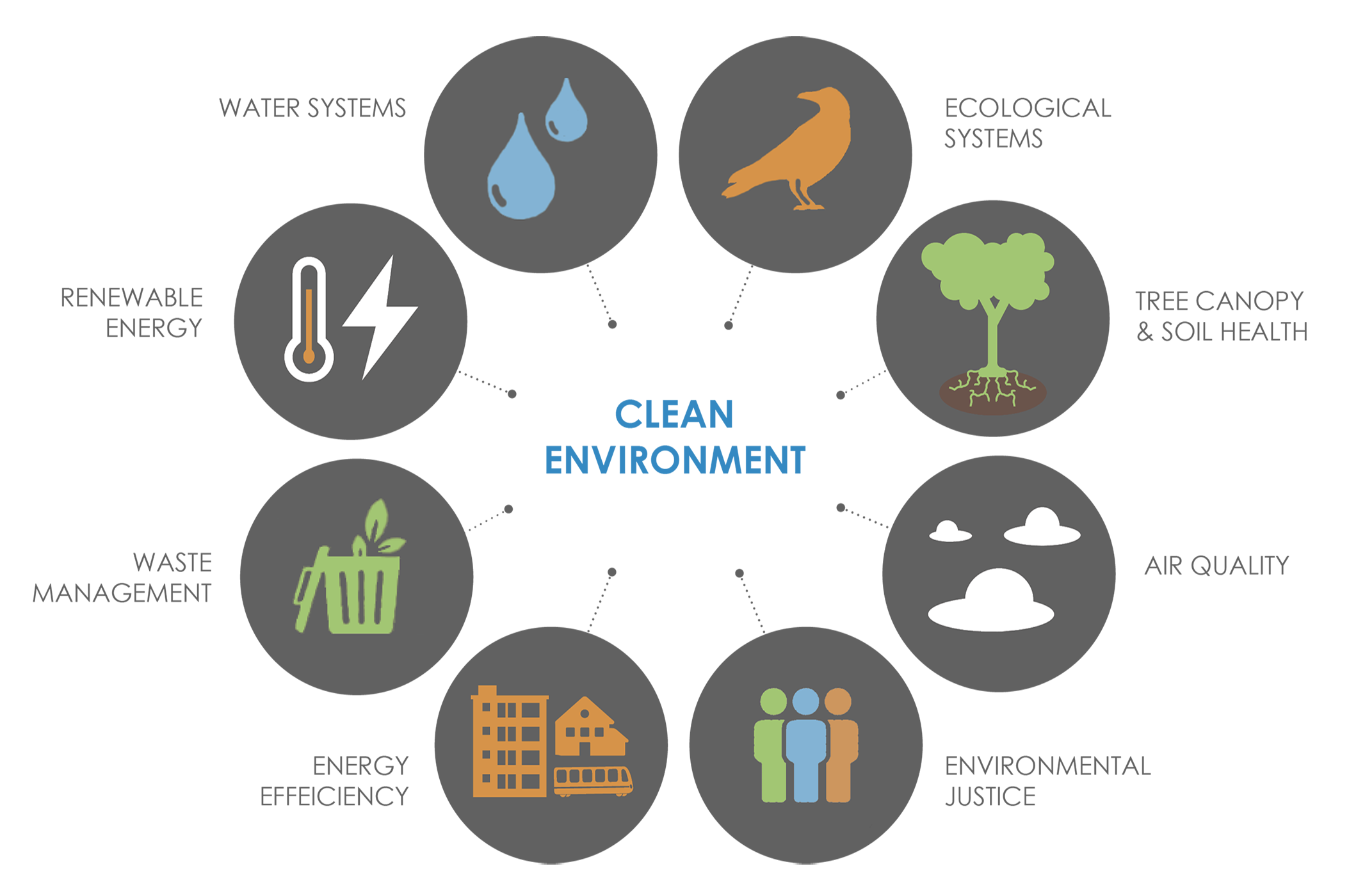 To achieve the goal of a clean environment, the City of Minneapolis will meet and exceed the air quality standards recommended by the EPA by eliminating the use of some of the most common industrial volatile organic compounds (VOCs) and by reducing industrial sources of other harmful pollutants. The City will also pair investments with regulatory changes to achieve equity in areas of environmental injustice.
The City will protect and manage its water resources sustainably while preventing contaminants from polluting its water systems. Achieving this means maximizing waste reduction to meet the City's zero-waste goals, supporting healthy ecosystems in and around surface waters, and increasing biodiversity to restore ecological habitats. It also means promoting large and small developments that enhance air, soil and water quality.

Policies

19 Policies relate to this goal. Click on a policy below to learn more about it.
Renewable and Carbon-Free Energy
POLICY 69
Energy Efficient and Sustainable Buildings
POLICY 68
Environmental Impacts of Transportation
POLICY 16
Environmental Justice and Green Zones
POLICY 61
Production and Processing
POLICY 3
Contaminated Sites
POLICY 62
Tree Canopy and Urban Forest
POLICY 14
Ecology and Habitat
POLICY 70
Urban Agriculture and Food Production
POLICY 65
Sustainable Water System Management
POLICY 72
Stormwater Management
POLICY 73
Integration of Water Management into Development
POLICY 74
Waste Reduction
POLICY 75
Freeway Remediation
POLICY 48
Preserving and Enhancing Public Lakes and Waterways
POLICY 97
Innovation Districts
POLICY 98
«

Back to top