MEETING-IN-A-BOX
Meeting-in-a-Box: Phase 5 - Review
Would you like to host your own conversation and provide feedback on the comprehensive plan? Download your kit today, and provide feedback to shape policies for the future of Minneapolis!
What is Meeting-in-a-Box?
Meeting-in-a-Box is a civic engagement method designed for use by community groups, neighborhood associations, or friends to gather at a convenient time and location to share their ideas and proposals for the future of the city. This tool is designed for people to come together to address issues, build consensus around priorities, and provide input to the comprehensive plan.
Meeting-in-a-Box: Phase 5 – Review is the fourth in a series of materials that are available for download throughout the Comprehensive Plan process.
How do I use it?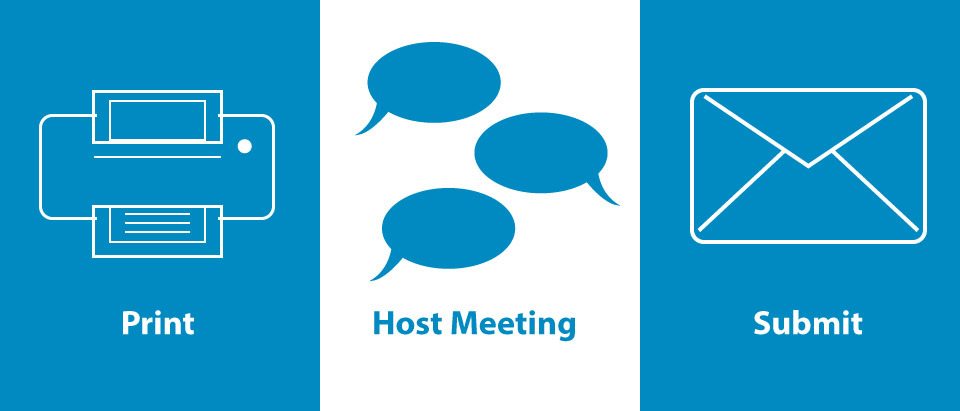 The tool is organized into three easy steps: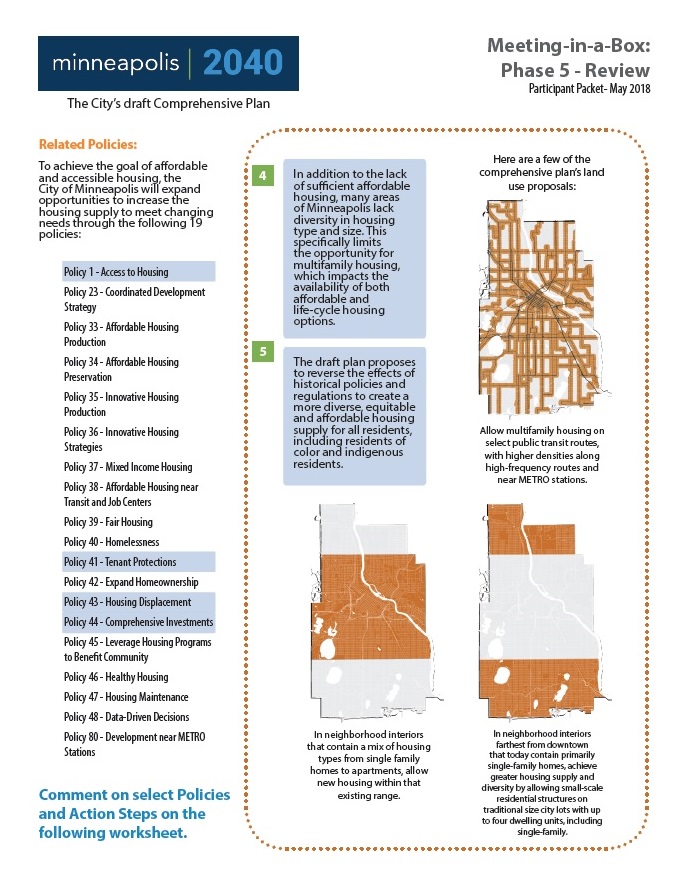 1. Print – Print meeting materials. Download the Host Packet and Participant Packets with the exercises on topics that you would like to facilitate at the meeting in the links below:
- Host Packet (one)
- Exercise 1: Policies and Action Steps
- Exercise 2: Land Use and Built Form Maps
- Exercise 3: Transparency and Accountability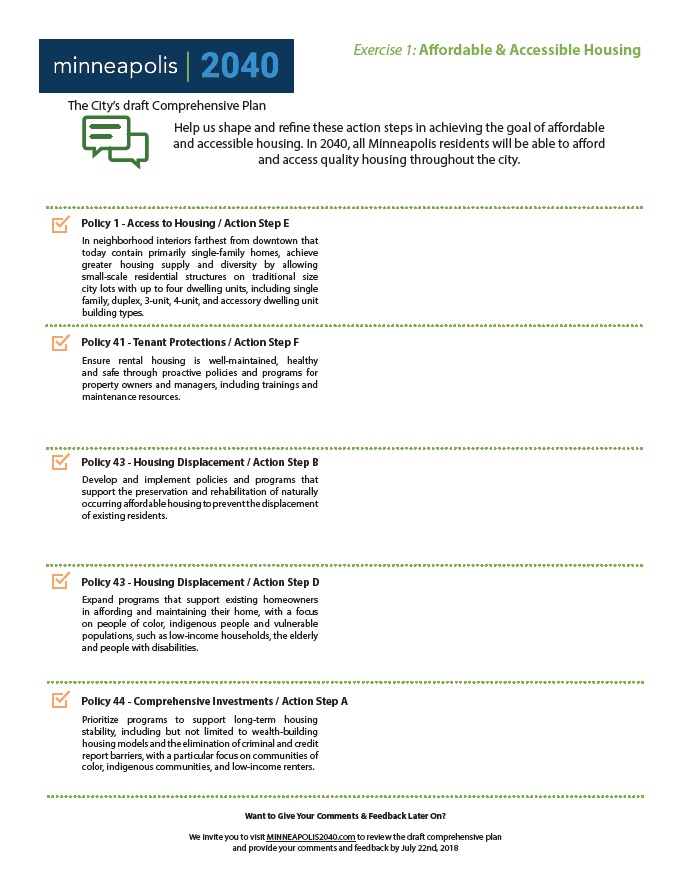 2. Host Meeting– Facilitate the discussion among community members, and record responses in the worksheets.
3. Return – Collect all worksheets. Return materials to City staff through the following ways:
- Method 1: Scan & Email materials to: 2040@minneapolismn.gov, Subject line: "Meeting-in-a-Box".
- Method 2 : Mail to or drop off at: Attention: Minneapolis 2040, City of Minneapolis - CPED, 105 Fifth Avenue South #200, Minneapolis, MN 55401
 What if I want to provide my comments online?
No problem! Visit the various pages on the comprehensive plan website and provide comments directly on individual draft policies, on interactive online maps, or just send us feedback! You can find more information here.


What if I need help accessing the tool?
For reasonable accommodations or alternative formats please contact the Department of Community Planning and Economic Development at 2040@minneapolismn.gov. Allow at least one week for translation services.
«

Back to top