Food Businesses:
Support food-related businesses to improve access to healthy food and advance economic development.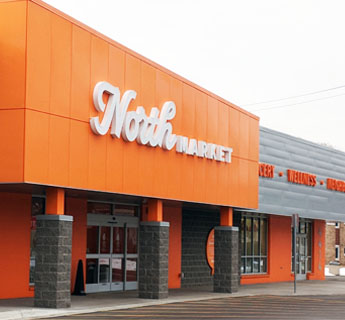 Support for food-related businesses and entrepreneurial activity can grow the local economy by connecting people to productive livelihoods and building their skills, while also increasing the availability of healthy food for communities. The farmers markets of Minneapolis are an excellent example: In 2016 they provided a commercial marketplace for an estimated $10 million to $20 million in sales for more than 800 local food vendors, as well as numerous venues throughout the city for residents to purchase fresh produce and local food products.
Economic growth is most powerful when it builds economic capacity in communities with the greatest need. Supporting food-related businesses can help build this economic capacity in a number of ways. For example, culturally specific food-related businesses can serve as an important economic entry point, and continued means of income, for new immigrant entrepreneurs and entrepreneurs of color. Improving healthy food access in under-resourced communities can help children and youth have the energy and focus to learn and grow, ultimately contributing to a productive, vibrant local economy.
Entrepreneurs often lack the capital, resources, and experience with regulatory frameworks to start businesses in the city. Creating conditions conducive to new business start-ups, such as streamlining processes and raising awareness of resources, can remove barriers for new and existing businesses to thrive.
ACTION STEPS
The City will seek to accomplish the following action steps to support food-related businesses to improve access to healthy food and advance economic development.
Develop or expand business financing programs to help with startup and capital costs for food processing businesses and food stores.
Continue to streamline and clarify business licensing processes for food businesses.
Ensure reliable educational opportunities for food processing entrepreneurs to learn about food safety.
Continue to review and refine regulations for new food, beverage and food-producing enterprises.
Support farmers markets and other food system infrastructure to provide reliable, accessible venues for healthy food and food producers.
Purchase healthy foods from local food businesses when catering City-related events, meetings and other gatherings.
Integrate food-related business needs into workforce skills and training.
Enhance outreach to raise awareness and participation in business financing programs for food processing businesses and food stores.
Work to develop grocery delivery options in underserved areas that increase access to healthy foods.
«

Back to top