Pedestrian-Oriented Building and Site Design:
Regulate land uses, building design, and site design of new development consistent with a transportation system that prioritizes walking first, followed by bicycling and transit use, and lastly motor vehicle use.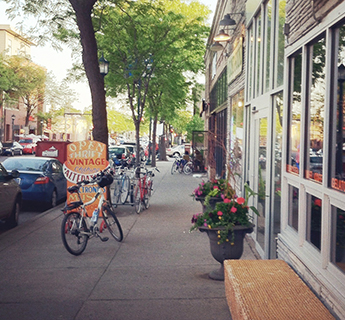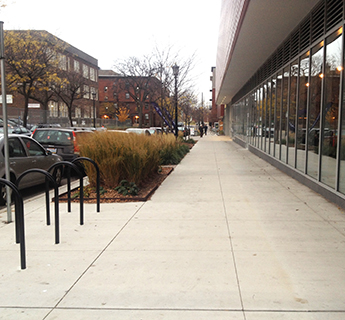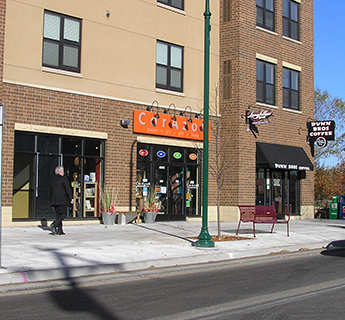 The City of Minneapolis Complete Streets policy prioritizes walking first, followed by bicycling and transit use, and lastly motor vehicle use. Building and site design of new development should follow this same hierarchy in order to encourage sustainable modes of transportation and improve health outcomes. The number and location of entrances, the size and distribution of windows, building setbacks from the street, landscaping, along with building design elements such as lighting and awnings, all contribute to the pedestrian experience. Site layout is also important to facilitating pedestrians, cyclists, and transit users. Factors such as the building location, parking lots, driveways, open space, plazas, and pocket parks merit careful attention.
ACTION STEPS
The City will seek to accomplish the following action steps to regulate land uses, building design, and site design of new development consistent with a transportation system that prioritizes walking first, followed by bicycling and transit use, and lastly motor vehicle use.
Orient buildings and building entrances to the street. Encourage multiple entrances to multi-family residential buildings. The number of entrances in non-residential uses should increase in proportion to the length of the building and be located along main corridors or at the street corner.
   
Encourage multiple storefront bays with direct connections to the sidewalk where active or commercial ground floor uses are required.
Require windows and window treatments on buildings that allow clear views into and out of the building.
Ensure that buildings incorporate design elements that eliminate long stretches of blank, inactive exterior walls through provision of windows, multiple entrance doors, green walls, and architectural details.
Integrate components in building designs that offer seasonal protection to pedestrians, such as awnings and canopies, to encourage pedestrian activity along the street.

Consider the arrangement of  buildings within a site to minimize the generation of wind currents at ground level.
Encourage building placement that where possible enables solar access and allows light and air into the site and surround properties and supports energy efficient lighting.
Encourage building placement and massing design that considers the impact of shadowing, particularly on public spaces, recognizing that extreme seasons make shaded areas alternately desirable at different times of year.
Coordinate site designs and public right-of-way improvements to provide adequate sidewalk space for pedestrian movement, curb extensions, street trees, street lighting, landscaping, street furniture, sidewalk cafes, and other elements of active pedestrian areas.
Coordinate with Metro Transit to ensure that the design of new buildings supports transit operations.
Implement and expand regulations and incentives that promote bicycling, such as the provision of secured storage for bikes near building entrances, storage lockers, and changing and shower facilities.
Eliminate the requirement for off-street parking minimums throughout the city, acknowledging that demand for parking will still result in new supply being built, and re-evaluate established parking maximums to better align with City goals.
Discourage access to and egress from parking ramps off major corridors, instead encouraging access at mid-block locations  and at right angles to minimize disruptions to pedestrian flow at the street level.

Below grade parking is encouraged.
Require above-grade parking structures to be designed with active uses along the street walls and with sufficient clearance and floor grades on all levels to allow adaptive reuse in the future.
Discourage the establishment of and minimize the size of surface parking lots. Mitigate the negative effects of parking lots through screening, landscaping, minimizing curb cuts, sufficient number of down-cast, glare-free light fixture, and other measures.
Encourage the design of parking areas in ways that minimize their contribution to the urban heat island.
Prohibit the establishment of new drive-throughs and gas stations.
Prohibit the establishment of new auto repair facilities and other auto-oriented uses in areas designated Neighborhood, Community, and Destination Mixed Use on the Future Land Use Map.
Mitigate the impacts of auto repair and other auto-oriented uses on the pedestrian environment through building and site design requirements.

Encourage safe and convenient pedestrian connections through development sites and mid-block connections in the downtown core.
Limit, consolidate, and narrow driveways along pedestrian routes. In addition, discourage driveway access on Goods and Services Corridors.
Consider topography, site grading, rainwater management, and rainwater conveyance system so that snowmelt is directed away from roads and pedestrian areas to avoid icy conditions.
Discourage multiple curb cuts within a development for automobile passenger drop off and pick-up or any other use.
Encourage building designs that reflect the unique site and context where they lie within the city.
Encourage building elements that provide educational opportunities for school-age children.
Encourage openable doors, walls and windows on active first floors that create a connection between indoor and outdoor spaces, especially the public realm, during appropriate weather. 
Limit self-storage businesses to integration within active use buildings. 
In Land Use areas other than Production & Processing, require buildings with inactive uses, such as storage facilities or adult entertainment establishments, to be screened with publicly appropriate active uses along street faces or to be located above or below street level.
«

Back to top